Science Café – Winter 2023 Programme
26th January 2023
6:00pm
Science Café
Doors and café open at 6pm, with the talks beginning at 7pm in the main theatre. The first session comprises an introduction and the main talk, this is followed by a refreshment break during which any questions you have for the speakers can be submitted. The Q&A session runs from 8 to 9pm (all timings approximate).
We've been running the Cut Science Cafe's as hybrid events and you can find some of them on our YouTube channel here
More Information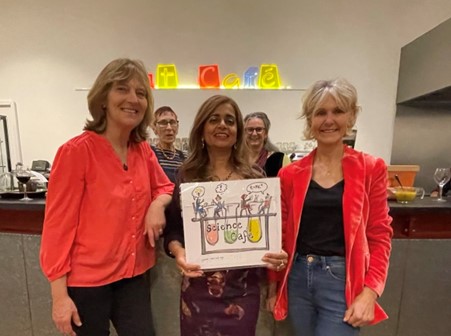 This will be my final season of The Cut Science Café, which started informally in 2012, by 2014 it was sufficiently well established to be in the printed programme, by 2016 we had sold out audience numbers and had to take over the Theatre as well as the café. In March 2022 our 10th anniversary, we exceeded capacity of both areas and sold many recordings of the event.  I appreciate your support and thank our many speakers and my team of volunteers, all of whom, myself included, are unpaid for our work for the Cut. Thank you all, Dr Umi Hashim.
6-9 pm £6.00 Doors open from 6pm and the talks start at 7pm, after a refreshment break, during which written questions can be submitted, The Q & A session runs from 815 to 9pm. All timings are approximate. To book tickets please go to https://www.ticketsource.co.uk/thecut or phone the Box Office on 0300 303 3211.
THURSDAY 26 JANUARY SUSTAINABLE AVIATION: 
Professor Chris Atkin of UEA will take us through the Jekyll & Hyde story of air transport. Unfortunately its many benefits may have been at the expense of despoiling the
atmosphere. Chris will explain how engineers strive to balance societal demands with planetary preservation. Book this flight into our future now HERE.
THURSDAY 23 FEBRUARY: VISION, ILLUSION & CONFUSION
Professor Paul Hibbard of Essex University will explain how our eyes and Brains create our perception of living in a three-dimensional world, usually accurately but occasionally illusory. Comparing Artificial intelligence [AI] with our own visual system, particularly of illusions can give us valuable insight (!) into both AI and our own perceptions. Must be seen to be believed! Bookings are now open HERE.
THURSDAY 30 MARCH:  MIRACULOUS FISH MIGRATION
From a tiny pool in Suffolk to the wide Sargasso Sea and back, Biodiversity  Research Scientist, Ben Norrington of the Environmental Agency will take us on a breath-taking tour of our local migrating species, particularly of Eel and Sea Trout. Please join us to celebrate our fish fin-ale in style! Bookings are now open HERE.
Upcoming Events
To provide the best experiences, we use technologies like cookies to store and/or access device information. Consenting to these technologies will allow us to process data such as browsing behaviour or unique IDs on this site. Not consenting or withdrawing consent, may adversely affect certain features and functions.
Functional

Always active

The technical storage or access is strictly necessary for the legitimate purpose of enabling the use of a specific service explicitly requested by the subscriber or user, or for the sole purpose of carrying out the transmission of a communication over an electronic communications network.
Preferences

The technical storage or access is necessary for the legitimate purpose of storing preferences that are not requested by the subscriber or user.
Statistics

The technical storage or access that is used exclusively for statistical purposes.

The technical storage or access that is used exclusively for anonymous statistical purposes. Without a subpoena, voluntary compliance on the part of your Internet Service Provider, or additional records from a third party, information stored or retrieved for this purpose alone cannot usually be used to identify you.
Marketing

The technical storage or access is required to create user profiles to send advertising, or to track the user on a website or across several websites for similar marketing purposes.
Skip to content