Richard Ducker & Ian Thompson: The Accurate Perception Available When Our Eye Becomes Single
16th January 2024 - 24th February 2024
10am to 4pm
Exhibitions
Forthcoming Exhibitions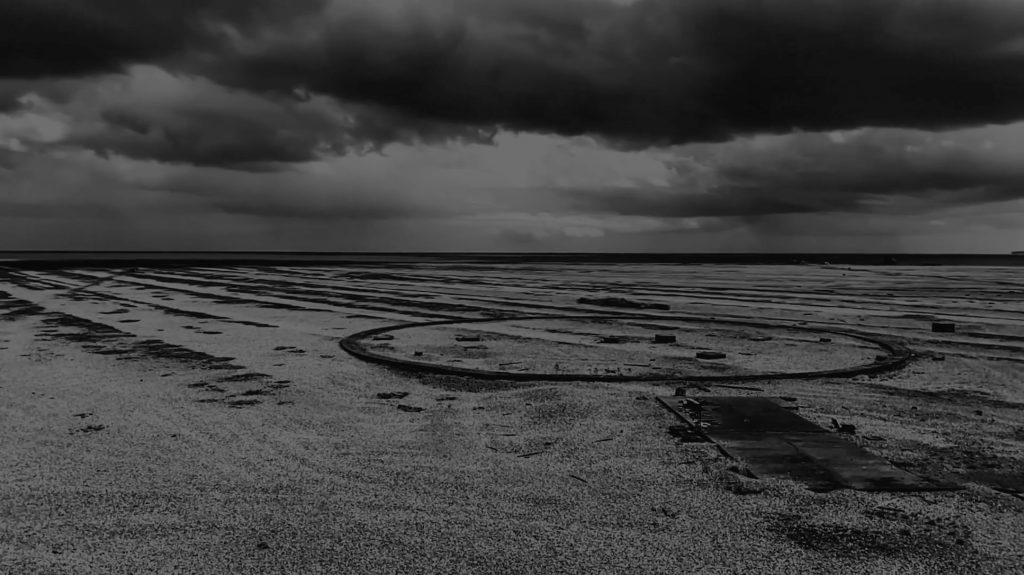 The Accurate Perception Available When Our Eye Becomes Single is an immersive multi-screen installation evoking the emotional specifics of place (Orford Ness on the Suffolk coast) while exploring the elasticity of time and history. It is an audio-visual collaboration between Richard Ducker (video) and Ian Thompson (sound) with no linear narrative; sound and image are not synchronised, so each viewing is a unique experience.
Orford Ness is an eight-kilometre shingle spit, used for secret military testing during the First World War until the cold war in the 1980s. The site is now desolate but the decaying architecture from seventy years of military occupation remain. These strange elemental structures are formed out of an alien landscape that resembles a lost movie set.
For the installation, the film's constituent parts are broken into up to seven looped sections and projected on multiple screens and monitors, with four stereo audio channels on loudspeakers.
There will be a live performance on the last day by artist Sarah Sparkes.
A Vimeo link of a short walk through of the exhibition:
More Information
Richard Ducker has exhibited widely throughout the UK and internationally, including the following: ICA, London; Kettles Yard, Cambridge; Serpentine Gallery, London; Royal Academy, Edinburgh; Mappin Gallery, Sheffield; The Yard Gallery, Nottingham; The Kitchen, New York; Flowers Central, London; Cell Project Space, London; Katherine E Nash Gallery, Minnesota, USA; Standpoint Gallery, London; Café Gallery, London; and Anthony Reynolds Gallery, London.
https://www.richardducker.com/
Ian Thompson is a senior lecturer at the School of Stage and Screen at the University of Greenwich where he teaches sound production and design for film and television. He is also a member of the Sound/Image Research Centre where he investigates the role of sound design practice in virtual production while also developing compositional work with the IKO spatial speaker system. With a professional background in music performance, digital media production, and sound engineering, Ian's diverse experiences have converged to underpin an emerging arts practice informed by an academic interest in contemporary soundscape research.
Upcoming Events
To provide the best experiences, we use technologies like cookies to store and/or access device information. Consenting to these technologies will allow us to process data such as browsing behaviour or unique IDs on this site. Not consenting or withdrawing consent, may adversely affect certain features and functions.
Functional

Always active

The technical storage or access is strictly necessary for the legitimate purpose of enabling the use of a specific service explicitly requested by the subscriber or user, or for the sole purpose of carrying out the transmission of a communication over an electronic communications network.
Preferences

The technical storage or access is necessary for the legitimate purpose of storing preferences that are not requested by the subscriber or user.
Statistics

The technical storage or access that is used exclusively for statistical purposes.

The technical storage or access that is used exclusively for anonymous statistical purposes. Without a subpoena, voluntary compliance on the part of your Internet Service Provider, or additional records from a third party, information stored or retrieved for this purpose alone cannot usually be used to identify you.
Marketing

The technical storage or access is required to create user profiles to send advertising, or to track the user on a website or across several websites for similar marketing purposes.
Skip to content